Buying a used engine
If you've neglected your engine or have been in a crash and damaged it beyond repair, you may be looking at getting a replacement one. An engine rebuild is not always possible or even financially logical, as quite often rebuilds can cost as much as the engine themselves. Brand new engines are out of the question for most people too, as they're way too expensive. The only other alternative is to buy a second hand one.
Naturally, this can cause some concern for some of you, but fear not. We're here to address any questions you may have regarding this topic.
Determining the needs
If your engine is exhibiting some issues, chances are that it's most likely fixable and you don't need a whole engine, rather just the components which are malfunctioning. There are however certain occasions where purchasing a different engine is almost inevitable, such as:
– Engine not starting in cold weather
– Finding large pools of oil under the car, no matter if it's been parked for 5 minutes or 5 months
– The engine uses lots of oil
– Strong engine knocking which does not go away
– Engine is steaming on a regular basis
Although these are just general guidelines and they don't mean that an entire engine swap will be required, in most cases as severe as these unfortunately it means that something serious is wrong. It's best to have the car fully inspected by a mechanic who will know for sure what you're dealing with.
Collect information
If you do decide to proceed with an engine swap, it is best you gather information regarding your current engine before you go out and purchase a used one right away. Start by finding out the engine's VIN number, its engine code and the production date. They will make finding a used engine compatible with your car easier and much simpler.
The VIN number is located on the VIN plate. The VIN plate can be found on the front section of the dashboard on the left hand side of the car. In most cases you can read it just through the windshield without having to remove anything.
Tracking down the engine number will require you to open the hood and look at the engine for yourself. Look for a plate which has a number written on it. It's almost always positioned in a very striking and obvious location, but in case you can't find it, consult your manual. If that doesn't help, call your dealership as a last resort. They're more than happy to assist customers with something like this.
The production date is a little harder to extract, because it isn't written anywhere separately, but rather, it's embedded in the VIN number. You can't read it manually, so you're going to have to search for a VIN decoder online. From there on, it's simply a process of inserting your VIN number and getting the results for the production date back.
Buying/Installing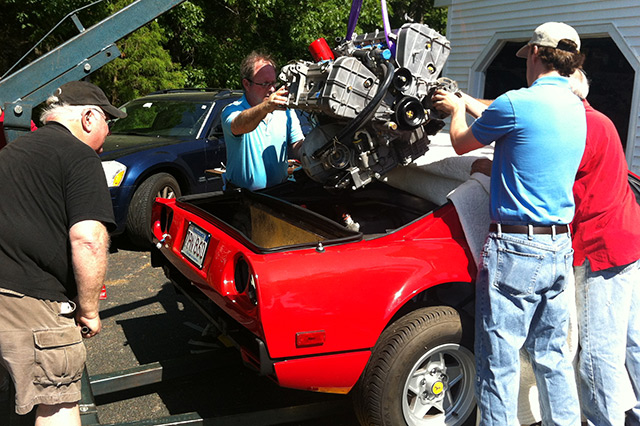 Try to go for a used engine with low miles. It's usually your safest bet. Chances are the car has been involved in a crash but the engine has been left intact. Never trust a seller if they fail to provide any VIN numbers or mileage. Check your engine's mileage online with the help of the VIN number (the seller will have it). Unless you're a skilled mobile mechanic, don't do the install on your own. An engine swap is one of the hardest things to do, so leave it to a local professional mechanic.
Once it's all done, take the car out for a spin just to make sure everything is working as it should. Make sure you take care of your new engine and it should last you for a very long time.